This article is a stub.
Not all information has been covered about this subject. You can help by expanding it!
Xi'an is a creature seen in the Nickelodeon television series Kung Fu Panda: Legends of Awesomeness. He was a demon that fought and lost against the former Furious Five, and then had his spirit trapped in his cursed sword.[1] He was featured in the episode "The First Five" where his sword was found and fought over.
Biography
Earlier years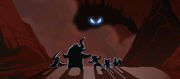 In the previous Furious Five's final mission, they faced Xi'an in a grueling battle near a volcano, during which they triumphed due to Fenghuang casting a protective spell that blocked his mystical attacks. With Xi'an apparently destroyed, the Five sought to claim his sword, but upon reaching it Shifu realized its dangerous connection to Xi'an's spirit. Faking a slip, he dropped it into the volcano where he hoped it would be lost forever; sadly, the act was perceived as an act of cowardice by his teammates.
Years later, Xi'an's sword would emerge, with his spirit taking control of two Imperial guards before infecting
Elephant
, who recovered the sword with the aid of his teammates and Po, who replaced Shifu. Consumed by Xi'an's malevolence, Elephant attacked his allies and the arriving Shifu with the current Furious Five. Fortunately, the two Furious Five groups managed to free Elephant, and Fenghuang dropped the sword back into the volcano, destroying it and Xian's spirit once and for all.
Personality
Coming soon!
Fighting style and abilities
Coming soon!
Relationships
Coming soon!
Clothing
Coming soon!
Gallery
Images
Coming soon!
Videos
Coming soon!
References
Ad blocker interference detected!
Wikia is a free-to-use site that makes money from advertising. We have a modified experience for viewers using ad blockers

Wikia is not accessible if you've made further modifications. Remove the custom ad blocker rule(s) and the page will load as expected.