Wuxi
Talk

1
818pages on
this wiki
Wuxi
Physical attributes
Species
Unspecified
Gender
Unspecified
Height
Weight
Eye color
Fur color
Skin color
Feather colors
Scale colors
Clothing
Other attributes
Age
Biographical information
Also known as
Master Wuxi
Status
Deceased
Residence(s)
Occupation
Kung fu master
Affiliation(s)
Family
Combat style
Unspecified style of kung fu; invented the Wuxi Finger Hold
Master(s)
Unknown
Student(s)
Unknown
Chronological information
Films
Kung Fu Panda (mentioned)
Shorts
TV shows
Video games
Books
First appearance
Last appearance
Voiced by
"
Po:  [gasp] The Wuxi Finger Hold! Not the Wuxi Finger Hold!
Shifu: Ohhh, you know this hold?
Po: Developed by Master Wuxi in the Third Dynasty, yes.


{{{speaker d}}}{{{quote d}}} {{{speaker e}}}{{{quote e}}} {{{speaker f}}}{{{quote f}}} {{{speaker g}}}{{{quote g}}} {{{speaker h}}}{{{quote h}}} {{{speaker i}}}{{{quote i}}} {{{speaker j}}}{{{quote j}}} {{{speaker k}}}{{{quote k}}} {{{speaker l}}}{{{quote l}}} {{{speaker m}}}{{{quote m}}} {{{speaker n}}}{{{quote n}}} {{{speaker o}}}{{{quote o}}} {{{speaker p}}}{{{quote p}}} {{{speaker q}}}{{{quote q}}} {{{speaker r}}}{{{quote r}}} {{{speaker s}}}{{{quote s}}} {{{speaker t}}}{{{quote t}}} {{{speaker u}}}{{{quote u}}} {{{speaker v}}}{{{quote v}}} {{{speaker w}}}{{{quote w}}} {{{speaker x}}}{{{quote x}}} {{{speaker y}}}{{{quote y}}} {{{speaker z}}}{{{quote z}}}

"
 
—Shifu threatening to use the hold on Po, Kung Fu Panda
 
Master Wuxi was a master of kung fu credited for creating the Wuxi Finger Hold, which was used by both Po and Shifu in Kung Fu Panda.
Biography
There is nothing else known about Master Wuxi other than his/her fame for developing the Wuxi Finger Hold sometime in the third dynasty, as Po noted in the first film.
Accomplishments
Technique Background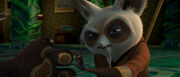 The use of the
Wuxi Finger Hold
involves pinching an opponent's index finger and then flexing your pinky. Once the pinky is flexed, it is said to affect a person's
chi
so greatly that it essentially causes them to "explode".
[source?]
Regardless, however, no one truly knows what happened to
Tai Lung
after
Po
used the hold on him in the
first film
.
Trivia
In the first storyboard version of the Wuxi Finger Hold of the first film, Shifu used a Chinese finger trap to catch Po.[1]
In an interview with "Po", Scholastic News Online asked about the hardest move for him to learn. Po confirms with the Wuxi Finger Hold and states that Shifu told him (after he defeated Tai Lung with the hold) that there's really no such move; it was just a story that kung fu masters made up to scare their students into submission. In addition, Po couldn't really recall how he did it.[2]
According to some traditional Chinese sources, the "third dynasty" that Master Wuxi had invented the hold may have been the Zhōu Dynasty, which followed the Shāng Dynasty (known as the second Chinese dynasty). The Zhōu Dynasty lasted from 1046 to 256 BCE (1029–771 BC).[3]
References