This article is a stub.
Not all information has been covered about this subject. You can help by expanding it!
This article is out of universe from Kung Fu Panda.
This subject has been distinguished as part of the real world and therefore should not be taken as part of the fictional universe of the Kung Fu Panda franchise.
"The Way of the Prawn" is the sixth episode from season three of Kung Fu Panda: Legends of Awesomeness.
Plot
Synopsis
Over Po's objections, Shifu calls in a noble Samurai prawn to help take down a villain from Japan.[1]
Summary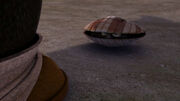 Coming soon!
Voice cast
Trivia
Although this episode aired during season three of the series, it is production-wise from season two, as shown by its production code number (290).
Gallery
Images
Videos
Coming soon!
Tracks
Quotes
See also
References
External links
Legends of Awesomeness Season 3 episodes
| No. in series | No. in season | Title | Directed by | Written by | Original U.S. airdate | Prod. code |
| --- | --- | --- | --- | --- | --- | --- |
| 53 | 1 | "Shifu's Ex" | Aaron Hammersley | Gene Grillo | June 24, 2013 | 218 |
| 54 | 2 | "War of the Noodles" | Lane Lueras | Doug Langdale | June 25, 2013 | 305 |
| 55 | 3 | "The Break Up" | Lane Lueras | Katie Mattila | June 26, 2013 | 208 |
| 56 | 4 | "Mind Over Manners" | Aaron Hammersley | Kevin Campbell | June 27, 2013 | 304 |
| 57 | 5 | "A Thousand and Twenty Questions" | Lane Lueras | Brandon Sawyer | June 28, 2013 | 302 |
| 58 | 6 | "The Way of the Prawn" | Michael Mullen | Gene Grillo | July 1, 2013 | 306 |
| 59 | 7 | "Mouth Off" | Aaron Hammersley | Doug Langdale | July 2, 2013 | 307 |
| 60 | 8 | "Serpent's Tooth" | Lane Lueras | Gene Grillo | July 3, 2013 | 308 |
| 61 | 9 | "The Goosefather" | Michael Mullen | Katie Mattila | January 11, 2014 | 309 |
| 62 | 10 | "Po Picks a Pocket" | Lane Lueras | Gene Grillo | January 26, 2014 | 310 |
| 63 | 11 | "Croc You Like a Hurricane" | Aaron Hammersley | Doug Langdale | February 2, 2014 | 311 |
| 64 | 12 | "Crazy Little Ling Called Love" | Aaron Hammersley, Luther McLaurin | Doug Langdale | February 9, 2014 | 319 |
| 65 | 13 | "Kung Fu Club" | Lane Lueras | Gene Grillo | February 16, 2014 | 314 |
| 66 | 14 | "The Hunger Game" | Michael Mullen | John P. McCann | February 23, 2014 | 315 |
| 67 | 15 | "A Stitch in Time" | Aaron Hammersley, Luther McLaurin | Doug Langdale | March 2, 2014 | 316 |
| 68 | 16 | "Eternal Chord" | Lane Lueras | Gene Grillo | June 8, 2014 | 317 |
| 69 | 17 | "Apocalypse Yao" | Michael Mullen | Doug Langdale | June 15, 2014 | 318 |
| 70 | 18 | "The Real Dragon Warrior" | Lane Lueras | Allan Rice | June 22, 2014 | 320 |
| 71 | 19 | "Youth in Re-Volt" | Aaron Hammersley | Doug Langdale | February 15, 2016 | 322 |
| 72 | 20 | "Forsaken and Furious" | Lane Lueras | Gene Grillo | February 16, 2016 | 326 |
| 73 | 21 | "Po the Croc" | Aaron Hammersley | Doug Langdale | February 17, 2016 | 328 |
| 74 | 22 | "Camp Ping" | Michael Mullen | Gene Grillo | February 18, 2016 | 327 |
| 75 | 23 | "Goose Chase" | Michael Mullen | Doug Langdale | February 19, 2016 | 324 |
| 76 | 24 | "The First Five" | Michael Mullen | Gene Grillo | June 8, 2016 | 321 |
| 77 | 25 | "See No Weevil" | Lane Lueras | Gene Grillo | June 15, 2016 | 323 |
| 78 | 26 | "Face Full of Fear" | Aaron Hammersley | Allan Rice | June 22, 2016 | 325 |
| 79 | 27 | "Emperors Rule (Part 1)" | Michael Mullen, Aaron Hammersley | Doug Langdale, Gene Grillo | June 29, 2016 | 312 |
| 80 | 28 | "Emperors Rule (Part 2)" | Michael Mullen, Aaron Hammersley | Doug Langdale, Gene Grillo | June 29, 2016 | 313 |