This article is a stub.
Not all information has been covered about this subject. You can help by expanding it!
This article is out of universe from Kung Fu Panda.
This subject has been distinguished as part of the real world and should not be taken as part of the fictional universe of the Kung Fu Panda franchise.
This article is about the episode. For other uses, see Midnight Stranger (disambiguation).
"The Midnight Stranger"
Season 2, episode 16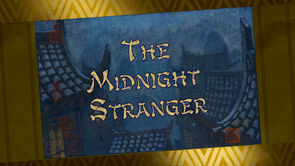 "The Midnight Stranger" is the sixteenth episode from season two of Kung Fu Panda: Legends of Awesomeness.
Plot
Synopsis
When kung fu is outlawed, Po turns to donning a mask to fight crime.[2][3][4]
Summary
Coming soon!
Voice cast
Gallery
Images
Videos
Quotes
Coming soon!
See also
References
External links