This article is a stub.
Not all information has been covered about this subject. You can help by expanding it!
This article is out of universe from Kung Fu Panda.
This subject has been distinguished as part of the real world and should not be taken as part of the fictional universe of the Kung Fu Panda franchise.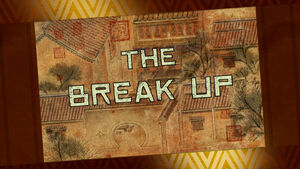 Written here is the full transcript of the episode "The Break Up" from the Nickelodeon television series Kung Fu Panda: Legends of Awesomeness. This transcript has been separated into three segments, indicated accordingly to the episode's commercial breaks.
Character dialogue lines were originally written by the episode's screenwriter, Katie Mattila. Descriptions shown between italicized brackets were written by contributors of this article.
Act 1
Coming soon!
Act 2
Coming soon!
Act 3
Coming soon!
Ad blocker interference detected!
Wikia is a free-to-use site that makes money from advertising. We have a modified experience for viewers using ad blockers

Wikia is not accessible if you've made further modifications. Remove the custom ad blocker rule(s) and the page will load as expected.