The Shank of Shantou is a knife-like weapon that was briefly mentioned in Secrets of the Masters. It is unknown what specific affiliation it has with the name of Shantou.
History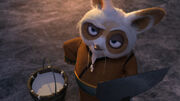 There is nothing else known about the shank other than its brief mentioning by
Po
in
Secrets of the Masters
. After having broken into the new
Masters' Council
exhibit by making a hole in the roof, Po was ordered by
Shifu
to repair it and handed him a trowel. Po at first thought it looked like another legendary weapon and tried making a few guesses to what it could be. The Shank of Shantou was one.
References
Ad blocker interference detected!
Wikia is a free-to-use site that makes money from advertising. We have a modified experience for viewers using ad blockers

Wikia is not accessible if you've made further modifications. Remove the custom ad blocker rule(s) and the page will load as expected.