Rhino's Revenge/Transcript
Talk

0
644pages on
this wiki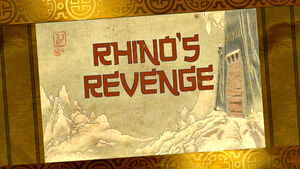 Written here is the full transcript of the episode "Rhino's Revenge" from the Nickelodeon television series Kung Fu Panda: Legends of Awesomeness. This transcript has been separated into three segments, indicated accordingly to the episode's commercial breaks.
Character dialogue lines were originally written by the episode's screenwriter, Scott Kreamer. Descriptions shown between italicized brackets were written by contributors of this article.
PO: The Valley of Peace, a land cruely beset by a thousand villains, and yet tranquility reigns, due to a single bodacious hero, the Dragon Warrior, who in his eternal pursuit of justice (yawning) never rests. (Talking in sleep) You shall not have your way with me, evil enchantress... (As Po continues to sleep he wakes up when he hears footsteps, he acts fast with a wooden sword, the Furious Five appear and Po drops his sword)
FURIOUS FIVE: Happy Dragon Warrior Day!
PO: Oh yeah, a whole day celebrating the Dragon Warrior, which is great if you are the Dragon Warrior, which last time I checked, I am.
MONKEY: We have something for you.
PO: Ohh, bean cake!
MONKEY: Uhh, uhh, uhh! (The Furious Five pose) You want the bean cake, you have to go through us.
PO: (Gasp) My two favorite things, food and Kung Fu.
(Po attacks the Furious Five)
MONKEY: Here's my fist! Sorry, didn't have time to wrap it.
(Viper attacks Po)
VIPER: Is this fun for you? Monkey said you would like it.
PO: Are you kidding, it's awesome.
(Crane attacks Po, but accidentally hurts himself)
CRANE: Oh, wing cramp!
(Tigress attacks Po, Po bounces Tigress, Mantis appears behind Po)
MANTIS: Guys, watch this.
(Mantis stings Po with his pointers, as the Furious Five tackles Po, he gets up and spins them around, Po tosses them and claims his bean cake)
PO: And that's what makes me the Dragon Warrior.
(Shifu opens the door knocking Po on the floor)
SHIFU: Po, the imperial sculptor is here to capture your- (The bean cake is shown on Po's nose) magnificence!
PO: (Gasp) Cool!
(Po sees the gigantic rock outside)
PO: Wow, it's really... Huh! Uhh, where's the head?
SCULPTOR: I haven't started.
PO: Ahah, Oh, (chuckles) so the head's on the inside. I'm sort of new to art. Uhh, look and I'm just spitballing here but, maybe we should do one with a bit more sizzle.
SHIFU: Sizzle?
PO: Yeah, like this, a big dragon with flaming wings, (Po smacks the sculptor with his fans) or I could do a wise old turtle with flaming wings, (Po smacks the sculptor again) or a tree--
SHIFU: With flaming wings?
PO: Don't see why not.
SHIFU: I think it needs to be a little more "without flaming wings".
PO: Oh, all right. (Po poses, but smacks the sculptor again) Oh, wait, no, that one has flaming wings. (The sculptor grunts) Oh, sorry!
SCULPTOR: I get the idea. (The sculptor runs away)
PO: Sweet! Well, I'm gonna go head down to the villiage and--
SHIFU: What about your training, panda.
PO: (Po stops and turns around) But, Master Shifu, there like, hanging streamers and stuff, for me, I have fans.
(Po gets over-excited and Shifu decides)
SHIFU: (Sighs) Very well, but be back in time to train tonight.
Coming soon!
Coming soon!