This article is a stub.
Not all information has been covered about this subject. You can help by expanding it!
The Noodle Mobile is a cart owned by Mr. Ping that is normally used for food delivery from the noodle shop. In Kung Fu Panda: Legends of Awesomeness, it was used in the episode "The Secret Museum of Kung Fu" by Po, Shifu, and the Furious Five on their journey to find a long-lost museum.
Description
The Noodle Mobile is a three-wheeled wooden cart that is powered by pedaling. Inside the body of the cart are two sets of benches where the passengers would sit. A wooden sign advertising Mr. Ping's noodle shop sits on the roof.
History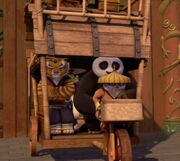 When Shifu and his students went on a road trip to find the Secret Museum of Kung Fu, they gained permission from Mr. Ping to use the Noodle Mobile as transportation. Shifu took on the task of driving the cart, and began by recklessly driving it down the lengthy palace stairs, colliding with a dismayed Mr. Ping along the way. During their rapid descent Mr. Ping frantically warned Shifu that the cart would not take such abuse, but Shifu insisted that there was nothing to worry about.
However, the cart would gradually become severely damaged during the trip, mainly due to the masters' frequent confrontations with the Lin Kuei. By the time they returned to the village at nightfall, the cart had been so severely damaged that they had to drag it back down the street, much to Mr. Ping's horror when he saw what had become of his Noodle Mobile.
Gallery
Images
Videos
Coming soon!
References