This article is a stub.
Not all information has been covered about this subject. You can help by expanding it!
The Mystical Dagger is the unofficial name[1] of a dagger seen in the episode "Hall of Lame" from Kung Fu Panda: Legends of Awesomeness. The dagger's origins are unknown, but it was once in the possession of Han Sr., who used a stuffed doll given to his son to hide it from Jong. The dagger was ultimately lost in a deep chasm when Po had to choose to either save it or the doll of sentimental value.
Description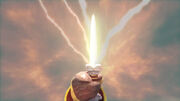 Coming soon!
History
Background
Coming soon!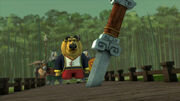 Coming soon!
Gallery
Images
Videos
Coming soon!
References
↑ Its true name was never mentioned. Characters in the episode referred to it simply as "the dagger".
Ad blocker interference detected!
Wikia is a free-to-use site that makes money from advertising. We have a modified experience for viewers using ad blockers

Wikia is not accessible if you've made further modifications. Remove the custom ad blocker rule(s) and the page will load as expected.