This article is a stub.
Not all information has been covered about this subject. You can help by expanding it!
Muchang Township is a village that appeared in the episode "Present Tense" from Kung Fu Panda: Legends of Awesomeness. The village served as the hiding place of the fugitive Shengqi, who was tracked down by Po for the bounty on his head during the Winter Festival.
Description
Coming soon!
History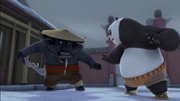 Coming soon!
Gallery
Images
Coming soon!
Videos
Coming soon!
References
Ad blocker interference detected!
Wikia is a free-to-use site that makes money from advertising. We have a modified experience for viewers using ad blockers

Wikia is not accessible if you've made further modifications. Remove the custom ad blocker rule(s) and the page will load as expected.