This article is out of universe from Kung Fu Panda.
This subject has been distinguished as part of the real world and should not be taken as part of the fictional universe of the Kung Fu Panda franchise.
"Mind Over Manners" is the fourth episode from season three of Kung Fu Panda: Legends of Awesomeness.
Plot
Synopsis
Po is struck by lightning which gives him the power to read minds.[2]
Summary
This section needs revising.
The content below could use some extra attention. You can help by editing it!
This section is a stub.
There is content missing from this section. You can help by adding some in!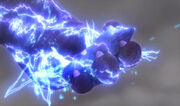 While attempting to stop Tong Fo from misusing a sapphire for a lightning rod, Po is struck by lightning leaving him unconscious. Upon regaining consciousness, Po finds his in his eyes his friends speaking to them with their mouths closed. He first believes his friends became expert ventriloquists, but Shifu realizes Po gained the power of Nao Yuedu, which can read minds.
Years prior, Tong Fo's grandfather Tong Lo enslaved the Valley of Peace. He had discovered the Gan Xiang sapphire and used Nao Yuedu. He thwarted every attempt on his life wasn't stopped, until the power drove him mad.
Po soon tests his powers on besting Tigress, but then Shifu worries that the Nao Yuedu power might also drive Po mad because to control the power one needs to have focus, discipline and concentration.
At lunch, Po tries to offer to help with Tigress's lunch and wonders why Viper and Mantis aren't wearing any clothes. In the hall, Po hopes to keep Crane's scented fabrics a secret.
With everyone upset at him, Po tries to take shelter in the noodle shop, and in his mind, Mr. Ping worries Po might take his money. Po soon finds himself in other villager's heads and runs away.
Voice cast
Gallery
Images
Videos
Quotes
Coming soon!
See also
References
External links