This article is a stub.
Not all information has been covered about this subject. You can help by expanding it!
This article is out of universe from Kung Fu Panda.
This subject has been distinguished as part of the real world and should not be taken as part of the fictional universe of the Kung Fu Panda franchise.
"Invitation Only" is the fifteenth episode from season two of Kung Fu Panda: Legends of Awesomeness.
Plot
Synopsis
Shifu tries to teach Po proper etiquette after Po is excluded from a dinner party due to his poor table manners.[2]
Po is sad when he learns that everyone has been invited to a dinner party except for him, due to his poor table manners. Will Shifu be able to teach Po proper etiquette AND foil the attack of evil Temutai and his army?[3]
Po's table manners exclude him from a dinner party and Shifu must teach him proper etiquette.[4]
Summary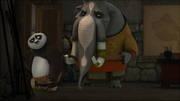 Coming soon!
Voice cast
Gallery
Images
Videos
Coming soon!
Quotes
Coming soon!
See also
References
External links
Ad blocker interference detected!
Wikia is a free-to-use site that makes money from advertising. We have a modified experience for viewers using ad blockers

Wikia is not accessible if you've made further modifications. Remove the custom ad blocker rule(s) and the page will load as expected.