This article is a stub.
Not all information has been covered about this subject. You can help by expanding it!
Hubei Volcano is an active volcano that serves as the main structure for Wu Fortress. It was featured in Secrets of the Masters where the Wu Sisters returned and plotted their next takeover of China.
Description
Exterior
This section needs revising.
The content below could use some extra attention. You can help by editing it!
The Hubei Volcano is the place where the Wu Fortress is located. The Wu Fortress is the Wu Sisters' home, and also a place where they plan their plans.
Interior
See Wu Fortress.
History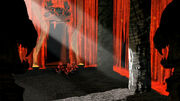 Coming soon!
Gallery
Images
Videos
Coming soon!
References
Ad blocker interference detected!
Wikia is a free-to-use site that makes money from advertising. We have a modified experience for viewers using ad blockers

Wikia is not accessible if you've made further modifications. Remove the custom ad blocker rule(s) and the page will load as expected.