This article is a stub.
Not all information has been covered about this subject. You can help by expanding it!
Han is a character in the Nickelodeon television series Kung Fu Panda: Legends of Awesomeness. He is a young pig child who appeared in the episode "Hall of Lame", where he asked for Po's help in retrieving his stuffed rabbit from thieves, who were actually after the dagger that was contained within.
Biography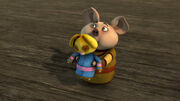 Coming soon!
Personality
Coming soon!
Relationships
Coming soon!
Coming soon!
Coming soon!
Clothing
Coming soon!
Gallery
Images
Coming soon!
Videos
Coming soon!
Quotes
Coming soon!
References
Ad blocker interference detected!
Wikia is a free-to-use site that makes money from advertising. We have a modified experience for viewers using ad blockers

Wikia is not accessible if you've made further modifications. Remove the custom ad blocker rule(s) and the page will load as expected.