This article is a stub.
Not all information has been covered about this subject. You can help by expanding it!
The Gong Tau Potion is a black magic potion that significantly increases the physical size of its consumer. It was featured in the Kung Fu Panda: Legends of Awesomeness episode "Huge".
Description
The potion's design is blue and when drank, it enlarges the drinker and increased his or her size, but it may also provide disadvantages when fighting.
History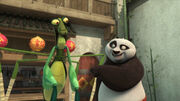 Coming soon!
Gallery
Images
Videos
Coming soon!
References