Enter the Dragon
Talk

2
730pages on
this wiki
This article is out of universe from Kung Fu Panda.
This subject has been distinguished as part of the real world and should not be taken as part of the fictional universe of the Kung Fu Panda franchise.
"Enter the Dragon"
Season 2, episode 7 & 8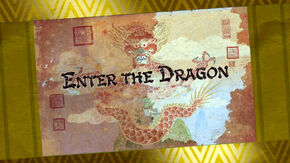 Episode Info
Original airdate
November 12, 2012
Production code
220, 221[1]; 999[2]
Director(s)
Aaron Hammersley, Michael Mullen
Writer(s)
Scott Kreamer, Peter Hastings
Producer(s)
Andrew Huebner, Bret Haaland

(co-exec.)

, Peter Hastings

(exec.)

Storyboarder(s)
Paul Linsley, Ryan Kramer, Aaron Hammersley, Alice Herring, Le Tang, Michael Mullen, Kenji Ono
Supervisor(s)
Randy Dormans, Gabe Swarr
Voice cast
"Enter the Dragon" is an Annie Award-winning[3], hour-long episode special from season two of Kung Fu Panda: Legends of Awesomeness. It was split into two parts during its production[1], labeling it as both the seventh and eighth episode of the season.
Plot
Synopsis
"Po and the Furious Five come across a creature who is invincible to the powers of kung fu."[4][5]
"Po and the Furious Five meet their greatest challenge yet: a supernatural creature who is invincible to the powers of kung fu."[2]
"The Furious Five and Po discover a creature immune to their Kung Fu."[6]
Summary
Coming soon!
Voice cast
*Listed in episode credits, but does not actually appear in the episode.
Trivia
Gallery
Images
Videos
Quotes
" [after transforming] Behold, the real Dragon Warrior!"
See also
References
External Links