This article is a stub.
Not all information has been covered about this subject. You can help by expanding it!
Ding's spirit orbs are a set of three mystical orbs that once belonged to Master Ding. They were featured in the Kung Fu Panda: Legends of Awesomeness episode "The Spirit Orbs of Master Ding".
Description
Coming soon!
History
Background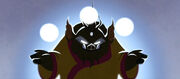 The orbs belonged to a kung fu student named Ding. The orbs gave him great mental acuity and concentration. Ding had grown impatient with his teachers, possessing their minds and being able to control them with his mind.
Coming soon!
Gallery
Images
Coming soon!
Videos
Coming soon!
References
Ad blocker interference detected!
Wikia is a free-to-use site that makes money from advertising. We have a modified experience for viewers using ad blockers

Wikia is not accessible if you've made further modifications. Remove the custom ad blocker rule(s) and the page will load as expected.