This article is a stub.
Not all information has been covered about this subject. You can help by expanding it!
Crocodile Island is a small piece of land located in the middle of a swamp. It is known to be the home of the Wool Stealing Crocodile Bandits, as well as many other crocodiles (hence the name).
Description
Coming soon!
History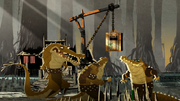 Coming soon!
Gallery
Images
Coming soon!
Videos
Coming soon!
References
Ad blocker interference detected!
Wikia is a free-to-use site that makes money from advertising. We have a modified experience for viewers using ad blockers

Wikia is not accessible if you've made further modifications. Remove the custom ad blocker rule(s) and the page will load as expected.