This article is a stub.
Not all information has been covered about this subject. You can help by expanding it!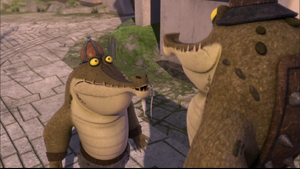 Bing
Physical attributes
Species
Crocodile
Gender
Male
Height
Weight
Eye color
Click to add in!
Fur color
Skin color
Feather colors
Scale colors
Brownish green
Clothing
Click to add in!
Other attributes
Half-moustache
Age
30+[1]
Bing is a character from the Nickelodeon television series Kung Fu Panda: Legends of Awesomeness. He is a terracotta craftsman and the father of Fung. He made his first and so far only appearance in the episode "Terror Cotta" where he helped his son create living terracotta warriors to attack the Valley of Peace in hopes to conquer China.
Biography
Earlier years
Coming soon!
Coming soon!
Personality
Coming soon!
Abilities
Coming soon!
Relationships
Bing seems to always call Fung a loser, but admitted he's also a loser and have became better friends.
Ex-Wife
Not much is known how much they loved each other in the past. What is only know is when he lost half of his mustache, his wife left him.
Clothing
Coming soon!
Gallery
Images
Coming soon!
Videos
Coming soon!
Quotes
Coming soon!
References