Big Bro Po/Transcript
Talk

0
644pages on
this wiki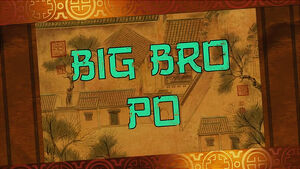 Written here is the full transcript of the episode "Big Bro Po" from the Nickelodeon television series Kung Fu Panda: Legends of Awesomeness. This transcript has been separated into three segments, indicated accordingly to the episode's commercial breaks.
Character dialogue lines were originally written by the episode's screenwriter, Doug Langdale. Descriptions shown between italicized brackets were written by contributors of this article.
[Taotie once again threatens to destroy the Furious Five and Po, he is carrying very heavy arms up the stairs to the Jade Palace, while Bian Zao walks]
BIAN ZAO: Dad, are we almost there?
TAOTIE: Yes! No thanks to you.
To be continued...
[Bian Zao opens the door to the room of Taotie's inventions, while he carries a piece of the Iron Claws of Doom, he walks pass Tigress]
TIGRESS: Hey there, you! You settling in nicely.
BIAN ZAO: Yes, sir!
[Tigress walks away, the scene cuts to the noodle shop]
To be continued...
PO: Taotie is coming.
[The Furious 5 and Shifu turn around]
SHIFU: What?!
MONKEY: We put him in jail.
PO: I know, but I just brought him the last piece he needed to re-build the Iron Claws of Doom.
SHIFU: You brought him the last- Wait! Where did he get the other ones?
[Po thinks he knows the answer and looks at Bian Zao]
BIAN ZAO: I tricked Po into making cakes and sneak the pieces to my Dad.
PO: Yeah! You did, and that was...
BIAN ZAO: Lame!
TIGRESS: Big deal! Taotie's never been able to beat us before.
BIAN ZAO: He said, his Iron Claws of Doom are more powerful then ever.
SHIFU: It's possible he'll never make it hear. [Shifu hears a noise in silent] He's here!
To be continued...