This article is a stub.
Not all information has been covered about this subject. You can help by expanding it!
This article is about the panda. For the Legends of Awesomeness character, see Bao (pig).
Bao is a young resident of Panda Village. He first appears in Kung Fu Panda 3 where he meets Po and Mr. Ping, commenting on their apparent differences in looks and lifestyle to the pandas of his village. He later enlists under Po's instruction in learning kung fu, with Po helping him to utilize his proficient kicking skills from playing Ti Jianzi.
Biography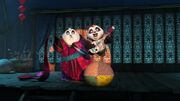 Coming soon!
Bao is one of several pandas that Po meets when he and his father travel to the hidden panda hideout.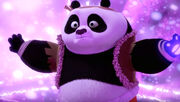 Coming soon!
Personality
Bao is shown to be very energetic, playful, mischievous, and hyperactive. He can also be rather curious and outspoken, asking Po why he ate with chopsticks instead of his paws, and questioning Mr. Ping's goose features as opposed to that of a panda's. He is also very good at continuously keeping toys in midair by bouncing them off his feet, similarly to kicking a soccer ball.
In Kung Fu Panda: The Paws of Destiny, he is described as the following:
Unlike his sister, he has a mischievous streak and likes to play practical jokes and stir up trouble. It seems each panda kid is imbued with the ancient chi he or she needs, and this is certainly true for Bao; he absorbs the chi of the Black Tortoise, which gives him empathy and helps him learn to put others before himself.[1]
Fighting style
During the invasion of the Panda village, Bao kicks some fire crackers at jombies.
Relationships
At first, Bao was a little confused at some of Po's mannerisms and why he couldn't do things that seemed normal for pandas, such as rolling or eating with his hands instead of chopsticks. Despite this, the two seem to get along, as Po was shown playing with Bao and his friends and later training him how to fight.
Clothing
Bao wears a brown vest with carpet-like tufts. He also wears a green belt, gray pants, and a small red hat.
Trivia
Gallery
Images
Videos
Quotes
Coming soon!
References