Kung Fu Panda 3 Blu-ray Pre-orders Live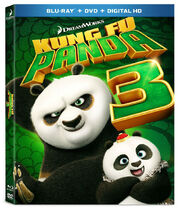 The animated flick will be ready to fight on Blu-ray later this year.

In an early announcement to retailers, 20th Century Fox is preparing 'Kung Fu Panda 3' for Blu-ray sometime in 2016. A Blu-ray 3D Deluxe Edition will also be available.

...

Specs and supplements have not been detailed yet.

Suggested list price for the Blu-ray/DVD/Digital HD combo pack is $36.99.
Via High-Def Digest